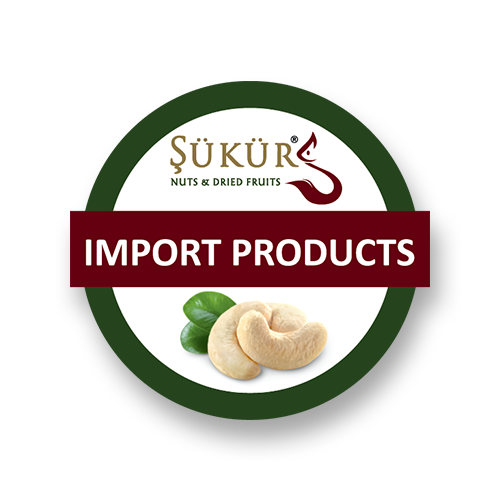 CASHEW
Children can't say no to this flavor…
Cashew is full of antioxidants, minerals and vitamins for the body to perform its function: cashew, rich in vitamins C, E, K, B6, and B12 contains thiamine, niacin and folates. It is rich in mineral, having lethal importance for health, such as phosphorus, potassium, iron, and sodium.
We prepare and package cashews we import from India and Vietnam in our Istanbul factory for different tastes.
CRANBERRY
There are vitamins A and C and beneficial sugars, organic acids, tannin, and pectin in cranberry. Cranberry is harvested in July and dried under daylight.
The dried cranberries, evaluated by the experienced experts of Şükür Kuruyemiş are packaged in our facilities in Denizli and distributed across Turkey.
WALNUT
Walnut, a part of our daily lives, is widely used in a lot of products we consume, such as chocolate, cookies and cakes.
We process and pack the walnuts we import in our factory in Istanbul and distributed acrossTurkey.
ALMOND
Almond has extremely high nutrition elements. It is a nutrition sources, rich with respect to Vitamin E, calcium, phosphorus, iron, and magnesium. Furthermore it contains zinc, selenium, copper, and niacin. It isvery beneficial with respectto health.
Almonds, selected from a lot of places of the world, are processed, packed with the expertise of Şükür Kuruyemiş and gettheir places in our tables.
DRIED PRUNE
Plum has strong components with respect to antioxidant. With this property, it is repairer to the damage which may occur due to free radicals in the body. It has a protective effect against cancer and heart diseases. It is recommended to use as snack to ensure the weight control. Dried prune containing a lot of vitamins and minerals waits to take its place in your tables with the warranty of Şükür Kuruyemiş.